Time is passing by, but some things are not changing – again we decided to be a Gold Sponsor of Team Projects Conference (Konferencja Projektów Zespołowych) on Wrocław University of Science and Technology. It's our 5th time in a row!
Each student of Politechnika needs to develop their own technological project to pass the exam. These projects are interdisciplinary and are performed by the undergraduate students as an obligatory course during the penultimate year of study.
This time we helped students to develop two projects:
– LoRaMIG – it's a project of mobile LoRa network gateway. With huge battery, solar panel and waterproof case, you can use it in almost any condition and place where you need access to LoRa. For sure we will use it during our development projects.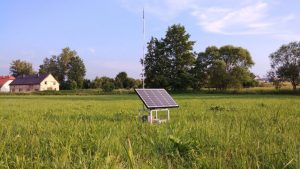 Mobile Lora gateway in the field
– GeLoRacja – it's a project dedicated to the security of seniors. LoRa based device is showing the information if the senior is still in the object or he is moving somewhere.
Last Monday we had a pleasure to host students working on projects under our company. During their visit, they had a chance to make a presentation of their projects in front of our team. As always, we were very happy and satisfied with their results and final solutions.
We believe that by sponsoring those kinds of events we are supporting students in their development, it's also a great opportunity to exchange know-how and experience with the specialists from the university. Thaumatec loves to be involved in challenging projects that can influence the way we are working and leaving.
For sure next year we will play important role in next edition fo Konferencja Projektów Zespołowych.
If you want to see our projects our meet our team:
What: Konferencja Projektów Zespołowych (Team Projects Conference)
When: Monday, 25.06.2018
Where: Centrum Kongresowe Politechniki Wrocławskiej D-20, room 10D, ul. Janiszewskiego 8.